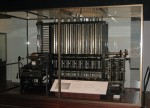 "This, at the end of the day, is why we use data, right?" said the model's creator, University of Wisconsin-Madison political science doctoral candidate Brad Jones. "It helps us to get away from our own prejudices."
UW-Madison doctoral candidate Brad Jones developed a model to estimate the levels of support for Gov. Scott Walker and Mary Burke in the Wisconsin gubernatorial race.
Jones' model is just another indication that Burke and Walker are locked in a tight race, a fact confirmed by recent polling done in the state.
Via Mary Burke is winning* @ Capital Times.
Link to Polling Model: go.madison.com/govrace