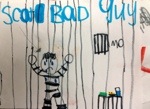 Kati Walsh, an elementary art teacher at the Madison Metropolitan School District in July posted some of her students' drawings of Gov. Scott Walker in jail. Walsh suggests her young Rembrandts' ideas for their sketches popped up out of thin air.

"One student said something to the effect of 'Scott Walker wants to close all the public schools'… So the rest of the class started drawing their own cartoons and they turned very political. They have very strong feelings about Scott Walker," the teacher wrote on her blog.
Via Madison elementary art teacher posts students' anti-Walker cartoons @ Watchdog.org.