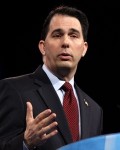 Gov. Scott Walker said Saturday that he played no role in soliciting cash from a mining company for the Wisconsin Club for Growth during the 2011 and 2012 recall elections, adding that no one should be surprised that the pro-business governor backed legislation helpful to the firm.

Asked whether he was aware that Gogebic Taconite secretly donated $700,000 to Wisconsin Club for Growth — a pro-business advocacy group directed by the governor's campaign adviser — Walker said, "Not to my knowledge."

When asked if the previously undisclosed funds and subsequent legislation were part of some pay-to-play scheme, Walker said, "That's a ridiculous argument."
Via Scott Walker says he was unaware of $700,000 donation from mining company @ JSOnline.