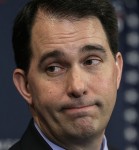 Just days before Josh Duggar acknowledged that as a teenager twelve years ago he molested several underage girls, the reality show star took a pair of inconvenient selfies with two 2016 contenders.
In the past week, Duggar met with Wisconsin Gov. Scott Walker and former Arkansas Gov. Mike Huckabee and put out photos of himself with the two leaders. At the time Duggar spoke with the two Republicans, the revelations about him had not broken publicly.
Via Embattled reality show star met this week with Gov. Scott Walker, Mike Huckabee @ JS All Politics Blog.