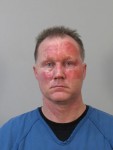 Dane County authorities arrested a town of Cottage Grove man they say set fire to a house Sunday night in a vigilante effort to keep a sex offender from moving in there.

Russell A. Speigle, 50, was arrested on a tentative charge of arson for the fire, which destroyed a home at 4721 Gaston Circle in the town of Cottage Grove, Sheriff Dave Mahoney said Tuesday.

Investigators are now trying to determine if Speigle was responsible for another fire that damaged the same house in December, Mahoney said.
Via Cottage Grove man arrested on suspicion of burning house intended for sex offender @ State Journal.