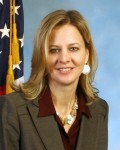 The former chief of the FBI Milwaukee office — believed to have encouraged perjury and then lied to investigators — is worthless as a witness and dishonors an agency that places a premium on integrity, according to bureau veterans and law enforcement experts.

But Teresa Carlson remains a high-ranking FBI official in Washington, D.C., and the agency won't say whether she has been demoted, suspended or disciplined in any way.

A Justice Department report issued last week concluded that Carlson, then special agent in charge of the Milwaukee office, instructed a subordinate to commit perjury in the case of a wounded veteran who wanted to become an agent. Carlson then likely lied to investigators from the Inspector General's Office and the FBI as well as federal prosecutors, the report says.
Via FBI mum on why former Milwaukee chief still holds top job @ A JOURNAL SENTINEL WATCHDOG UPDATE.