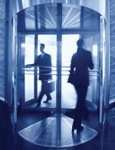 Mark Honadel, the Republican state rep who "authored" the mining bill giveaway actually written by the mining company, resigned his seat the other day for a "private sector" opportunity.

State Rep. Chris Sinicki says on Facebook it has been confirmed that Honadel's new job is lobbyist for Gogebic Taconite, the mining company.
Via Mining bill 'author' Honadel gets his reward; to lobby for mining company @ The Political Environment.