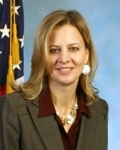 Carlson, left, was abruptly moved from Milwaukee to Washington in June after she came under investigation for allegedly pressuring a subordinate to commit perjury in the case of a wounded war veteran trying to become an agent.

Carlson is serving as the acting deputy assistant director of the Facilities and Logistics Services Division at headquarters.
Via New acting boss for FBI Milwaukee, but silence on Carlson's status @ JS Dogged Blog.